NEW HORIZON RANCH
About Us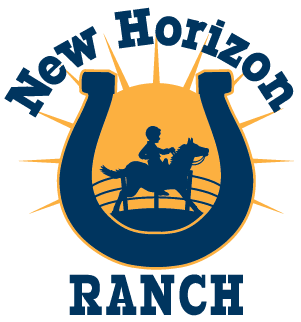 Serving individuals since 2007, it is the mission of New Horizon Ranch, to enrich the lives of individuals through equine assisted activities and therapies.
Culture
It is our belief that every child is capable of greatness and we believe that horses can play an important role in that process! Riding and interaction with horses are not only fun, but create opportunities for kids to improve physical strength, relational skills, cognitive skills and communication. Our horse partners create a unique and motivating atmosphere where riders are encouraged to reach new levels of independence, responsibility and confidence.
We take pride in our family oriented culture. Many parents have expressed that coming to New Horizon Ranch is the highlight of their child's week. The entire family enjoys coming to The Ranch, because everyone is accepted here. Whether you are a volunteer, client, or family of a client, NHR is a breath of fresh air; it's a place to take time, relax and enjoy the beauty of the horses and nature!
Programs
NHR currently offers a variety of programs including Hippotherapy, Therapeutic Riding, Equine Assisted Learning, Equine Assisted Psychotherapy, and Summer Day Camp programs to individuals of all ages with physical, cognitive, social, emotional and learning disabilities.
enrich the lives of individuals through equine assisted activities and therapies.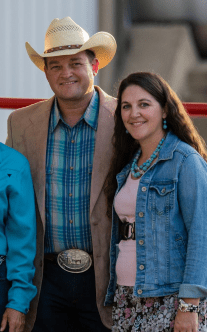 Brian Miller
PRESIDENT, CEO
Brian is a graduate of Mid America Nazarene University with a Bachelors degree in Business Administration and Agribusiness.  He has been in the Therapeutic Riding industry since 2001, and became both a PATH Int'l Certified Riding Instructor, and an EAGALA Certified Equine Specialist in 2006.  Brian also completed the O.K. Corral Series Green Training in 2008.  He and his wife, Joy, answered God's call to found New Horizon Ranch in 2006.  Brian left his position of 21 years at College Church of Nazarene in Olathe, Kansas to take the Executive Director position with NHR in 2010.
He previously served as the Co-Chair of the PATH Int'l Center Advancement Committee and still enjoys finding ways to assist membership in effectively managing centers that provide quality equine assisted services.
He and Joy have two children, Sara and Stetson.  In his free time he enjoys riding horses, teeing up a round of golf and fishing with his kids.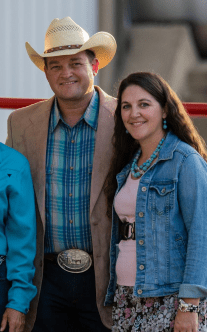 JOY MILLER
VICE PRESIDENT & PROGRAM DIRECTOR
Joy received an International Agribusiness degree from Mid America Nazarene University in 1999.  She and her husband, Brian, bought their first horses later that year, unaware that one of those horses would soon be serving riders with disabilities.  After seeing a therapeutic vaulting demonstration in 2001 they pursued God's prompting and began volunteering at a local therapeutic riding center.  Excited to combine her love for horses and passion for people, she and Brian co-founded New Horizon Ranch in 2006.  Joy became a PATH Int'lCertified Riding Instructor and an EAGALA Certified Equine Specialist in 2006 and completed the O.K. Corral Series Green Training in 2008.  She uses her love for details to develop and oversee the programs at NHR.  Joy enjoys the smiles and independence she sees from riders with special needs.
In whatever free time she can find, Joy enjoys serving at her church, riding horses, spending time with her kids, Sara and Stetson, gardening, and using her creativity to scrapbook.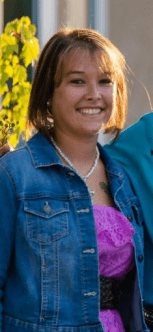 Jessica Freund
EDUCATIONAL ENRICHMENT DIRECTOR
Jessica was born and raised in Gardner, Kansas. A 2008 Baker University graduate, Jessica thoroughly enjoyed her 6 years of teaching 1st and 3rd graders at Heritage Elementary in Olathe. After volunteering at NHR for 4 years, she decided to extend her love for molding young learners and began to pursue her training as a PATH Int'l Certified Riding Instructor. She joined the NHR Staff in 2014 and is excited to combine her experience as an early elementary teacher, her love for kids and her passion for horses to change lives at NHR. She has already begun incorporating her educational expertise into summer camp, incorporating IEP goals into therapeutic riding and in Giddy Up and Read. It is fabulous to see her use her God given skills as she interacts with the riders! Jessica is married to Clint; they reside in Gardner with their son Austin.  She enjoys being outdoors, spending time with her family (including two adorable nieces) and crocheting.
OUR HORSES
NEW HORIZON RANCH HAS 16 HORSES THAT ARE USED IN LESSONS
"Our horses do an amazing job at connecting with NHR's riders long before anyone else can…"
~Brian Miller, President/CEO